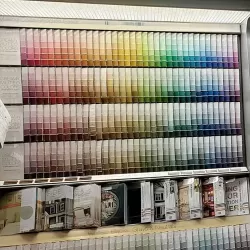 With a full spectrum of Benjamin Moore Paints & decorating services to choose from, M & M Decorating Center is a paint store trusted by contractors and homeowners. What more can you ask for than custom color matching and mixing at your location? There is no better way to make sure you get the perfect colors for each room and all exterior surfaces. 
Pick a color. Any color. If we don't have it in our library already, we can create a custom tint just for you. Pioneered and perfected by Benjamin Moore, our Computer Color Matching System can match the color of any sample 1-inch square or larger.
Interior Paint
Exterior Paint
Messmer's UV Plus Protection
Professional Painting Services
Professional Staining Services
Whether your home or workplace needs a new look, M & M Decorating Center is here for you. Show your customers or family that you mean business by creating a beautiful home or office with custom, coordinated color mixing and matching. Our locally-owned store will do everything we can to get you the right paint for the job. Every time. Whether you're looking for a color match, interior or exterior paint, wood stain, or painting supplies; we've got you covered.
You are our customer. That means we need to go above and beyond to do everything we possibly can to make sure you are getting exactly what you requested and exactly what you paid for. If at any time you feel the progress we are making is not quite what you expected, please bring it to our attention as soon as possible.
Benjamin Moore® Paints
Benjamin Moore paints are formulated to help you achieve beautiful, lasting results - every time you paint. We can restore the vibrancy and beauty of your home with just a new coat of paint. A fresh paint job on your home can dramatically improve the overall look, even if you don't change a single color. We are here to make your home look as good as possible, so restore the beauty of your home and call us today!