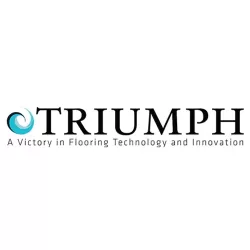 At M & M Decorating Center, we know life happens in your home. That's why we are pleased to offer Triumph Engineered Flooring, flooring with innovative technology to withstand just about anything that life throws at it. This innovative and pet-friendly product provides peace of mind. Triumph luxury vinyl tile installs over existing flooring, which means it hides subfloor imperfections. In addition, installation is fast and easy. All of the luxury vinyl tile in this collection are scratch resistant as well.
Durability for Every Day Life
Triumph Engineered Floors are made to be lived on. That's why they are pet-friendly, waterproof, and stain resistant. All floors are designed with a durable top layer that helps protect them from scratches and every day wear and tear. In addition, the floors are virtually dent resistant and resistant to temperature change.


No-Hassle Installation
Triumph Engineered Floors were created to make things easier for you. Installation is fast and easy, and all floors can be installed over your existing floor, helping to hide any imperfections in your subfloor. 


High in Style, High in Practicality 
With Triumph Engineered Floors, you don't have to sacrifice style for comfort. All floors have the look and feel of real wood, but have the quiet comfort of engineered flooring. Triumph Engineered Floors come in a wide variety of finishes and colors. To see all of the options, please speak with an associate at M & M Decorating Center.